Breastaurant Business Is Booming As Other Chains Struggle
While casual sit-down restaurants like Olive Garden and TGI Friday's are struggling to attract new business, diners are flocking to chains like Hooters, Twin Peaks and Tilted Kilt.  So called breastaurants—named for their scantily clad wait staff—are growing at a double digit pace over the last year, according to data from Technomic, a food market research firm.

Business is growing for breastaurants.
In addition to suggestive uniforms and attractive employees, these restaurants are catering to younger diners with "fresher-looking spaces" and menu items that appeal to millennials, like craft beer and artisanal food, reports the Huffington Post. But the original formula for attracting a mostly male clientele is relatively straightforward.
"Men are simple creatures and so you don't have to get too crazy to get them in the door," Kristen Colby, director of marketing for the up and coming Twin Peaks franchise, told the Huffington Post. Colby says that ice cold beer, sports and beautiful girls are pretty much "all it takes."
But Twin Peaks does make all of its food from scratch and offers some dishes you won't likely find at Applebee's like a venison burger and blackened fish tacos. Twin Peaks waitresses dress in seasonally suggestive uniforms, from devilish looking angels at Halloween to sexy Santas in miniskirts during the holidays.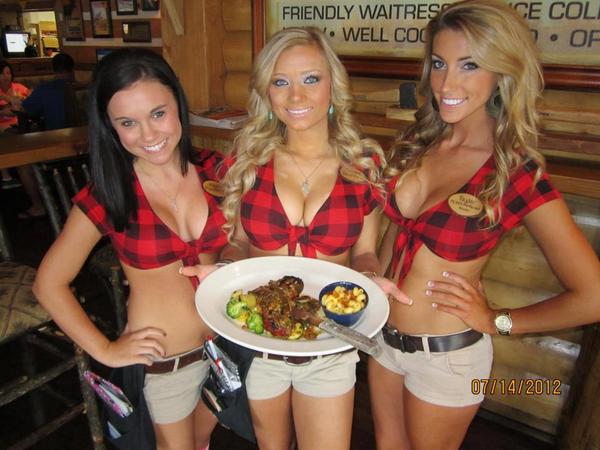 The waitstaff at Twin Peaks.
Beautiful girls may be the answer to solving sit-down restaurant's lagging sales but there are plenty of detractors who think breastaurants exploit women.
"The fact that women's wages are coming in from customers is already making them vulnerable to harassment," Liz Watson, director of the National Women's Law Center, told the Huffington Post. "It's only being compounded by these types of restaurants."
But Taylor Fogerty, a former Hooters waitress claims she was able use "female objectification to her advantage, and appreciated the better tips.
"Obviously there were some creeps, but I think you get creeps at any waiting job you go to."